NEW YORK STATE
A History of its Industries, Railroads and Inventions


Leading Industrial Pursuits

Ballston Spa, Glens Falls, Sandy Hill & Fort Edward
Author's note: This is a modern reprint of two booklets authored by newspaper correspondent and Ballston native John S. Bulkeley in the 1870s. Both of these books are very rare. Originals are extremely hard to come by, and even copies can only be found with some local historians and libraries.
Book titles within this volume are:

"Leading Men and Leading Pursuits of Ballston and Vicinity" (1874)

"Leading Industrial Pursuits of Glen's Falls, Sandy Hill & Fort Edward" (1877)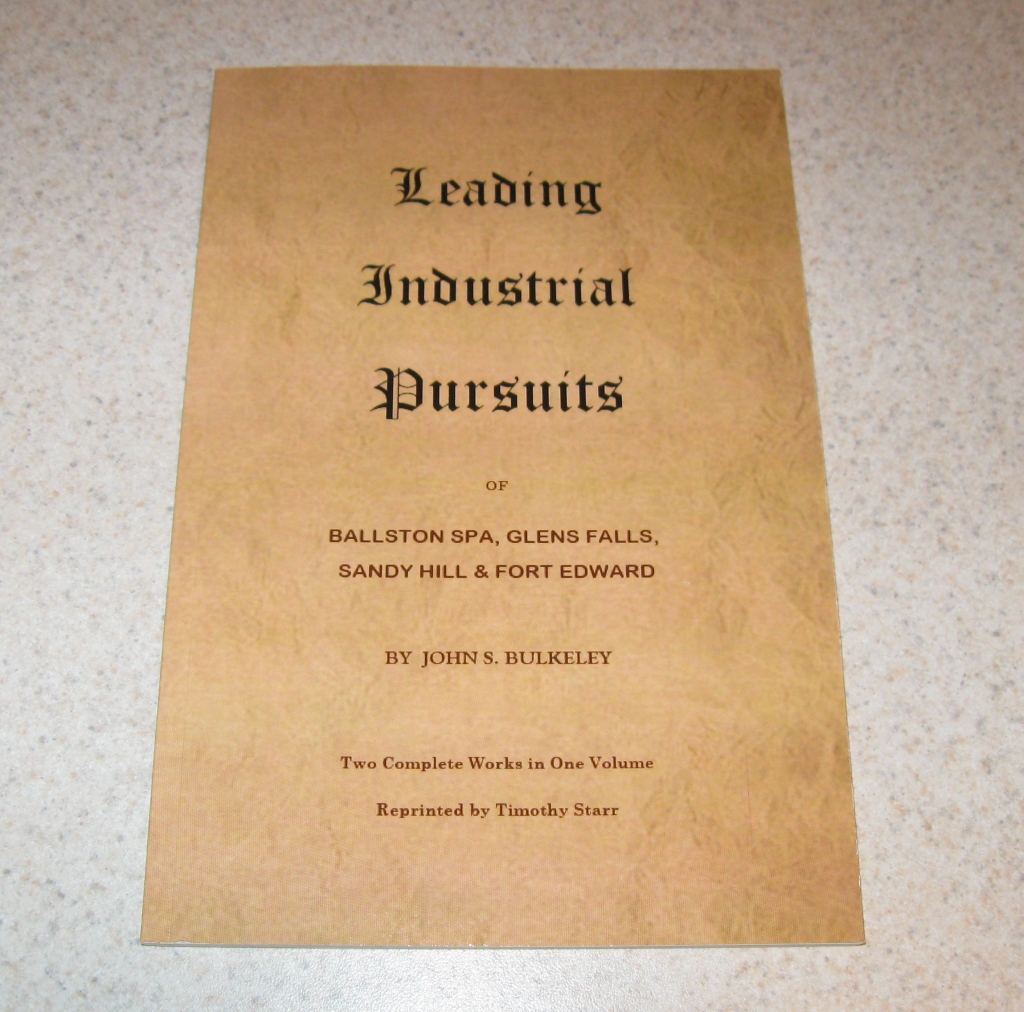 ---
Excerpted from Foreword by Timothy Starr

The time in which John S. Bulkeley lived (the late 1800s) was an exciting era in the history of Ballston Spa, Glens Falls, Sandy Hill, and Fort Edward, New York. In Ballston Spa, the industrial economy was resurgent with the establishment of paper mills after the embargoes and shortages wrought by the Civil War had forced the closure of its cotton mills. The future "Paper Bag King" George West had commenced building his paper mill empire and was rapidly becoming the largest manufacturer of manila paper in the world. Isaiah Blood had died a short time earlier, but his hard edge tool factories were still going strong under his son-in-law Henry Knickerbacker. A multitude of other industries had been established, including foundries, tanneries, and textile mills.
Glens Falls was also a growing industrial center. Lumbering was the most prominent trade for many years, but by mid-century the village was home to paper mills, lime quarries, and textile factories. Sandy Hill (present day Hudson Falls) benefited from the falls of the Hudson River, which provided power for several industrial pursuits, most notably sawmills, carriage makers, and paper mills. Fort Edward was also a paper manufacturing center by this time, along with foundries and a notable pottery and stoneware industry.
John S. Bulkeley was born in 1851 to Hiram W. and Mary Bulkeley. Hiram first came to the Town of Ballston as a high school teacher a short time before John's birth, but later started his own boarding school called "Bulkeley's Family School." Young John grew up in a crowded household that contained his parents, three sisters, three brothers, a school teacher, at least one servant, and around ten students.
By the age of twenty, Bulkeley was making a living in a fancy goods store several miles west of Saratoga Springs. Later he became a reporter for the Albany newspapers Argus, Press and Knickerbocker, and Journal, and was known as the "Up North" correspondent. He wrote a series of articles for the Albany Argus detailing the industries of Ballston Spa that received a great deal of attention and favor, and was persuaded to expand upon the articles and compile them into the book describing the manufacturing interests of Ballston Spa that follows. He created a similar book for Glens Falls, Sandy Hill, and Fort Edward in 1877.
Sadly, his life came to an untimely end on July 4, 1885 at the young age of 34. He developed a severe cough in the spring of that year which confined him to his bedroom. Although he received the best medical care that was available, he finally succumbed to what was then known as "consumption" (tuberculosis). He is buried in the Ballston Spa Village Cemetery along with his wife, who died only a year later at the age of 35.
Although John Bulkeley's life was cut far too short, he left a wonderful legacy in the form of the two books that follow. It is rare indeed for a town to have a first-hand account of the inner workings of its industries from one who set out specifically to record them. Beyond a description of the businesses, buildings, and machinery of the manufacturers that dotted the Kayaderosseras Creek and Hudson River, we are able to read about how the factories operated and the processes used to produce the goods that were shipped around the country.
The importance and rarity of these two works prompted the decision to reprint and republish them in one volume so that they can be more readily available in the future to students, researchers, and historians. Bulkeley's works are reproduced here as closely as possible to the original, including the few small grammatical errors that crept in, and the advertisements inserted by Bulkeley that subsidized his printing costs. A few of the original graphics were not reproduced because they were too obscured in my copies to be useful, but some of those, such as Benjamin Barber's water wheel, were replaced from my collection for clarity's sake. A few other photographs were added to enhance the narrative. It is hoped that this work will take the reader back to a long lost era whose living memory died decades ago with those who witnessed it.
---

TABLE OF CONTENTS

Foreword by Timothy Starr

1

Book I

Ballston and Vicinity

3

Preface

4

Geo. West & Son's Paper Mills

6

The Glen Paper Collar Company

8

Kilmer & Son's Mill

10

Samuel Haight's Tannery

11

Brower & Sherman's Grist Mill

11

O'dell's Paper and Collar Mill

12

The Old Red Mill

12

Jones & Cook's Mill

12

John McLean's Mill

13

The Knickerbacker (late Blood's) Ax and Scythe Works

13

The Eagle Wood and Iron Works

14

The Glen Woolen Mill

17

George E. Knox's Skirt and Corset Factory

17

J. A. Hovey's Cotton Mills

18

J. L. Hempstead & Co.'s Soap Factory

18

Schermerhorn & Swarts' Machine Shop

19

Arnold Harris' Foundry

19

I. Blittersdorff's Paper Box Factory

19

Another Box Factory

20

The Empire Carriage Factory

20

Tripp & Sullivan

21

M. Schwarz & Co.'s Tannery

21

Smith Hovey's Sash Works

21

Hovey's Saw Mill

21

Oil Cloth Factory

22

The Red Mill

22

The Blue Mill

22
Levi Ayers

22

William J. Wayne's Carriage Shop

23

Winne & Hunt

25

Bristol's Hat, Cap and Fur Store

26

N. F. Noxon's New York Store

26

Banking Business of Ballston

27

Dr. Larkin's Medical Institute

28

Marsden's Hotel

28

Boarding School for Young Boys

29

Sans Souci Hotel

29

Sans Souci Spouting Spring

30

The Ballston Spa Artesian Lithia Spring

31

G. R. Beach's General Insurance Agency

32

Ballston, Past and Present

33

Book II

Glen's Falls, Sandy Hill & Fort Edward

37

Preface

38

The Village of Glen's Falls

40

Lumbering

41

Morgan Lumber Company

44

The Lime Business

48

The Glen's Falls Ale Company

52

Glen's Falls Paper Company

53

Glen's Falls Shirt Company

55

L. G. Wilson's Planing Mill and Lumber Yard

56

Sandy Hill

57

Wilber & Witpen's Carriage Factory

59

George Barney's Carriage Factory

60

N. W. Wait and Son

61

Fort Edward

63

The Manufacture of Pottery

63

The New York Stone-Ware Company

65

Fort Edward Collegiate Institute

66

The Fort Edward Steam Planing Mill

68

Fort Edward Brewery

68
---
Article printed in the Ballston Journal, November 2008
Those interested in the famous industrial era of this village will be pleased to learn that author Timothy Starr has reprinted two rare booklets by Ballston Spa newspaper reporter John S. Bulkeley. Bulkeley was the "Up North" correspondent for such newspapers as the Albany Argus and the Albany Journal in the late nineteenth century.
In 1874 he wrote a series of articles about the numerous manufactories in and around this village that were printed in the Argus. The public seemed especially interested in the detailed descriptions of the Glen Paper Collar Company and the various paper mills situated along the Kayaderosseras Creek. The articles were so well received that Bulkeley compiled them into a booklet titled "Leading Men and Leading Pursuits of Ballston and Vicinity."
A few years later he traveled north of here to the Hudson River and visited the saw mills, logging operations, potteries, and lime kilns operating in that area. The result was another booklet titled "Leading Industrial Pursuits of Glen's Falls, Sandy Hill and Fort Edward."
The sophisticated writing found in these works makes it hard to believe that Bulkeley was only 22 years old when he proudly began writing about his hometown. Tragically, he died at the age of 34 from tuberculosis.
His two booklets, which have been out of print for over 125 years, have become difficult to find. Mr. Starr believed that, although they were only 48 pages each, the booklets are of such historical importance that they needed to be reprinted. Both booklets were compiled word for word into one 72 page volume, including the original advertising. Most of the printed copies were donated by Mr. Starr to various local institutions, but a few are available for purchase at the Brookside Museum, home of the Saratoga County Historical Society, in this village.

---
To purchase a book by mail, click here
[Home]