NEW YORK STATE
A History of its Industries, Railroads and Inventions


The Paper Bag King

A Biography of George West
Author's note: "The Paper Bag King" was released in September 2009; softcover binding, 6" X 9" - 135 pages - $15.95 - self-published, limited printing.
George West immigrated from England in 1849, settled in Saratoga County in 1861, and went on to become one of the most successful manila paper and paper bag manufacturers in the world. He was also elected to the New York State Assembly and United States House of Representatives for multiple terms.
Now out of print (2013).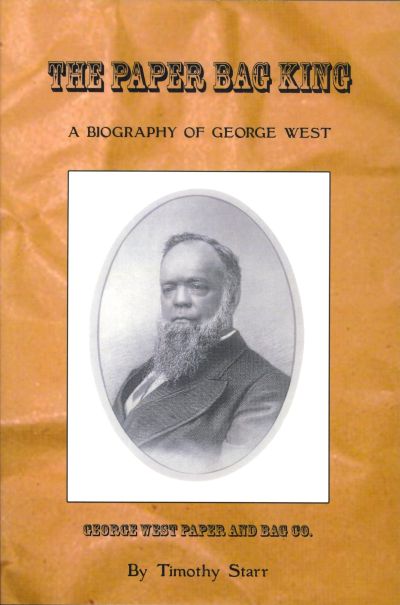 ---
Excerpt from the Introduction (copyright 2009, Timothy Starr):
George West was a man that everyone wanted as a friend. His status as one of Saratoga County's wealthiest and most prominent citizens would cause most people to develop outsized egos and destructive vices, but West resisted those temptations. Throughout his life, from an early age struggling to support his family, to middle age when he roamed the halls of Congress as its wealthiest member, he was always described as easy-going and generous with a quick wit and self-deprecating sense of humor. He often displayed fierce loyalty to friends and people he trusted. At times he even took this loyalty to the extremes, as evidenced by the many poor investments he made at the suggestions of others, the large outlay of money he made on gifts, and even an intervention in the criminal trial of one of his friends at Tammany Hall.
West was born with a disposition which made him at once the consummate businessman as well as a popular and well-loved citizen. Even a Democrat-leaning newspaper (the Amsterdam Daily Sentinel) begrudgingly observed that "his besetting sin is Republicanism, but those who enjoy his personal acquaintance, whether Democrats or Republicans, call him companionable and jolly – good to his neighbors, good to his many employees, and good to his friends." He was knowledgeable in all details of his business interests and seemed almost fixated on maintaining a rigid organization. It was said that a scrap of waste displeased him more than an idle machine, since the idle machine could not be helped, but waste and disorganization would not be tolerated.
While many others possessing wealth and influence are often known for ruthless business practices and a long list of enemies, West was able to avoid those attributes as well as the vices that afflict men in his position. His incredible wealth did not excite jealousy or bitterness in those around him. His birth into a family of modest means was well-known. Wealth that is earned through hard work is rarely envied; it only inspires others to strive for higher goals. And despite possessing more than his fair share of luck in business, West did not have a "charmed" life. Only two of his six children outlived him, which brought great sorrow to his family. He also suffered tremendous setbacks from the scourge of fire that would have driven others out of business. His first wholly-owned paper mill was destroyed in 1859. In the years that followed, his bag factory, freight house on the Delaware and Hudson Railroad, Union cotton mill, and one of the "Island" mills were all destroyed by fire.
Through all of these setbacks, as well as economic downturns, West managed to keep his mills in nearly continuous operation from 1862 to 1899, a period of almost four decades. Only one small workers' strike is recorded during that time, since his employees returned the loyalty that he showed them. A willingness to share his wealth with others and the town of Milton as a whole brought him even greater respect and dedication.
Although we would like to believe that history is a static, objective collection of facts, it unfortunately changes with time and often reflects the biases of the recorder. West's documented accomplishments are many. He was one of the few millionaires of the nineteenth century ($1 million in 1890 is the equivalent of $23 million today). He owned ten paper mills that produced millions of paper bags and tons of other paper products per day. He was elected multiple times to the New York State Assembly and the United States House of Representatives.
Even with a clarification of his accomplishments, West was one of the most successful men of his time, and was responsible for "putting Ballston Spa on the map" years after its celebrated springs had failed. Thanks to him, the name "Ballston" appears in hundreds of congressional reports, state assembly publications, paper manufacturing histories, American biographies, and archived newspaper articles. It is hoped that even though a few of the myths surrounding his life will be debunked, an even greater appreciation of George West will be realized to those who live within the borders of his former "empire" and others who want to get to know the "Paper Bag King."
---
Biography tells the story of the "PAPER BAG KING"
Among Ballston Spa's most famous citizens is "Paper Bag King" George West, who at one time manufactured more paper bags in his mills along the Kayaderosseras Creek than any other person in the country. A biography of the industrialist and statesman was recently completed by local author Timothy Starr.
George West was a larger-than-life personality in the village during the late 1800s. When he wasn't in Washington, D.C. fulfilling his duties as Congressman, West was commonly seen at the north end of the village engaged in his lucrative business enterprises. His mansion on the corner of Milton Avenue and Prospect Street was within walking distance of his Union Mill, Island Mill, Glen Mill, and Bag Factory. Up the river were his other mills, all producing manila paper to make his famous paper bags.
Starr's research uncovered how West was able to become so successful in such a short period of time. Part of it had to do with being in the right place at the right time, but it could not have been done without his keen business sense and hard work.
After purchasing his first paper mill in Rock City Falls, West decided to manufacture paper bags at a time when most carrying bags were made from cotton. For a couple of years his paper bags were made by hand at a shop in Ballston Spa.
As demand for the bags steadily increased, he sought ways to dramatically increase his output. It just so happened that the man who invented the first successful paper bag machine, Francis Wolle, was establishing a company called the Union Paper Bag Machine Company. Its only purpose was to buy and defend patents.
West and several other bag manufacturers joined the company at its formation. Each contributed funds to the company in exchange for the rights to all of its patents. In addition, they all agreed to split the country into market segments so that they did not compete with each other.
This proved to be a virtual goldmine for West. He was parceled out the huge New England market, including New York City. All of the latest and most effective machine patents were at his disposal, and were quickly installed in his original bag factory at Rock City Falls. Probably few people knew what it meant at the time, but when the Ballston Journal reported that "several of the latest Union machines" were being delivered at the bag factory, it was a reference to West's powerful consortium of bag manufacturers.
Soon he was turning out bags by the millions. The new machines created the so-called Self-Opening Satchel bags that grocers grew to love. Because his paper bags were so much cheaper than cotton sacks, demand soared.
Profits began to pour in at an astounding rate. West decided to expand his operations and either built or acquired one mill after another along the Kayaderosseras Creek until a dozen were under his ownership. By 1880 he was producing more bags than anyone else in the country.
West's fame was not limited to his status as one of the country's great industrialists. After several terms in the New York State Assembly, he was elected to three terms in the US House of Representatives. He was also one of the area's greatest philanthropists, donating the equivalent of millions of dollars to a variety of causes, including the soldiers' monuments in Ballston Spa and Schuylerville and a museum in Round Lake. When he died in 1901 he left a fortune that today would be worth nearly $75 million.
Any fan of Saratoga County history will find "The Paper Bag King" a fascinating read. The book transports readers back to a time when this area was a manufacturing powerhouse and men like West were greatly respected and universally known by every citizen. It features many passages from the time period, such as verbatim speeches made by West and a first-hand account of one of his mills. There are also chapters about his little-known early life in England and Massachusetts.
The book had been in the development stage for some time, but Starr received fresh incentive to finish it when he met the great, great grandson of West's daughter, Douglass "Tim" Mabee of Saratoga Springs. Mabee provided the extensive family tree found in the appendix as well as other valuable help.
The new book is now available for sale at the Brookside Museum, home to the Saratoga County Historical Society, where Starr is Treasurer of the Board of Trustees.

---
To purchase a book by mail, click here
[Home]